Introduction
This article is going to explain how to set up Special offers at your Wix Art Store "Manage Store" panel.
Note that if you were trying to learn about the way to set up prices, you should click here.
Prerequisites
We assume that you already went through the setup process:
* Installed Wix Art Store app on your site
* Chose Order a Print as your provider
* Uploaded your artwork
* Setup the store prices
* Filled in your business info and published the store


This page displays the special offers setup. It includes:

* Offer type
* Banner design
* Amount of the ofArea special

Special Offers for your Wix Art Store
One of the best ways to promote your Wix Art Store is through Special Offers. The key to every special offer is to get the word out and share your offers with friends, family and your Wix Art Store visitors.

Order a Print enables you to create special offers and promote them with a beautiful, banner that will appear above your Wix Art Store gallery, in just a few simple steps.

1. Go to Manage Store
2. Go to Special Offers tab
3. Click 'Create Special Offer'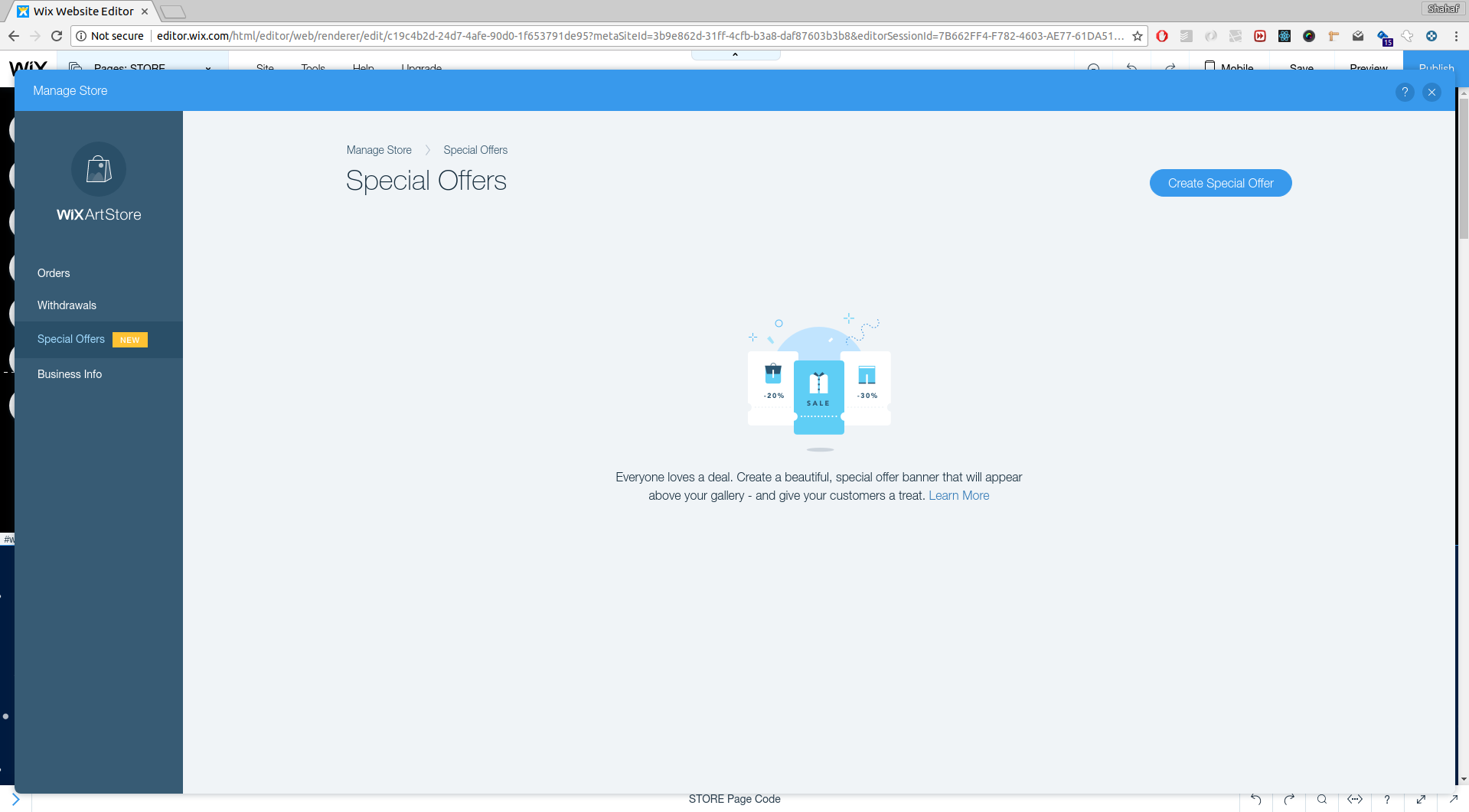 4
. Select which discount you want to offer
* Up to 12% discount on all products - The discount rate you set will be deducted equally from both the Base Price (our cost) and Your Profit - Meaning that 'Order a Print' share with you the discount deduction. [Note that ALL the products offered on your Wix Art Store will be discounted at the same discount rate that you set, meaning you cannot set the discount only to selected products and you cannot set different discount rates to different products]
* Up to 25% discount on shipping costs - Order a Print will incur the full discount deduction on Shipping Costs - Meaning that your customers pay less but you earn your original profit despite the discount
5
.Set the Discount % you'd like to offer
6
.You may create Special Offers and promote them to your customers anytime between Dec 19th - Jan 31st. Outside of these dates you will not be able to promote these special offers to your customers.
Note: You may choose to deactivate your special offer at any time during the timeframe above. If you deactivate your special offer, it will no longer be available on your site and the banner promoting your special offer will be immediately removed from your gallery.
7
.Select the background design for your banner - To get an idea of how your banner may look, simply click the 'Preview an Example' link.
Note: The sample banner is only an example and not the actual banner that will be displayed on your website.
8
.Add a Title & Tagline for your Special Offer
9
.Click Create
10
.Once you've clicked "Create" for your first Special Offer, the promotion banner for this special offer will
immediately appear live on your Art Store Gallery,
and customers will be able to claim their discount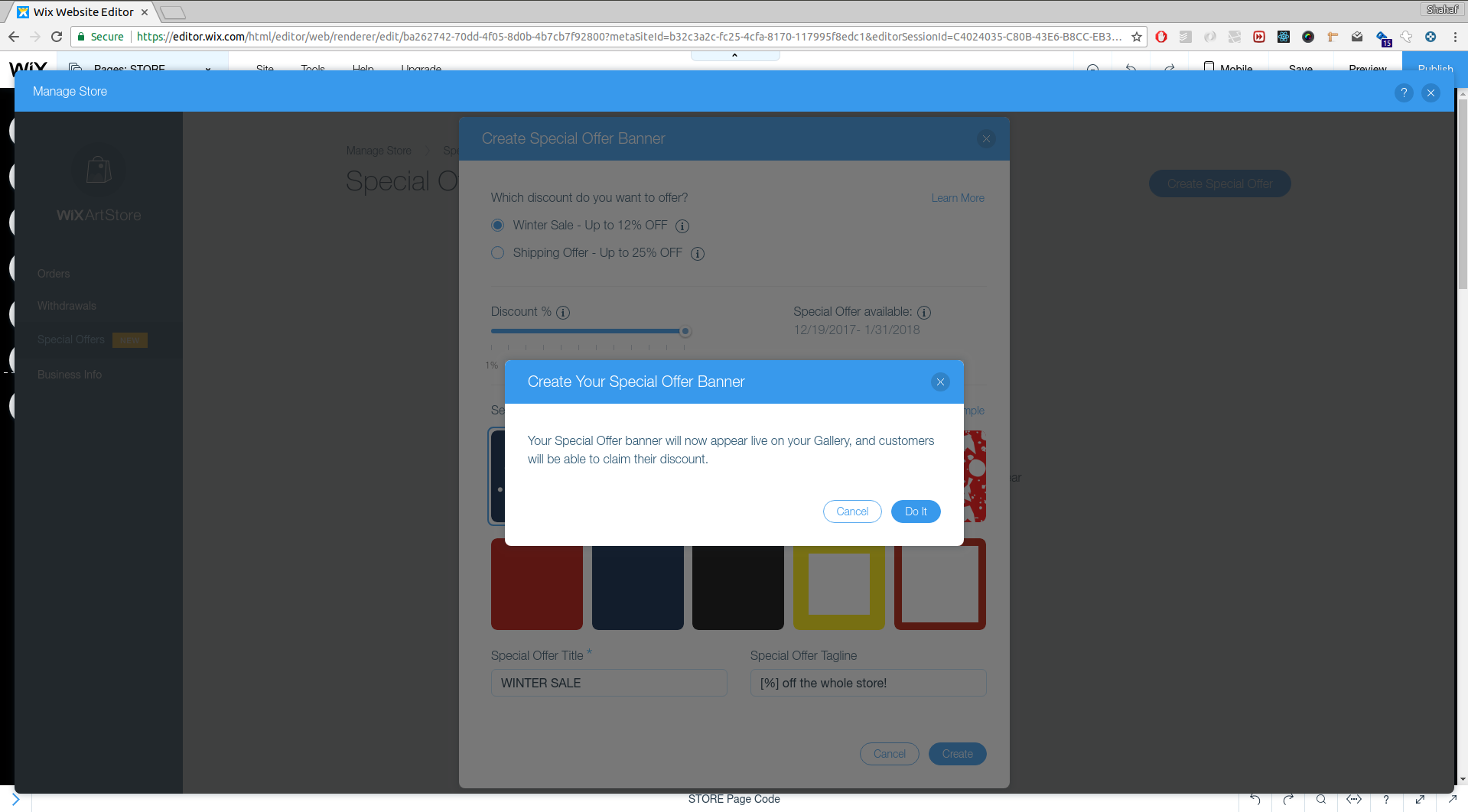 11
.Great you have your first offer activated on your site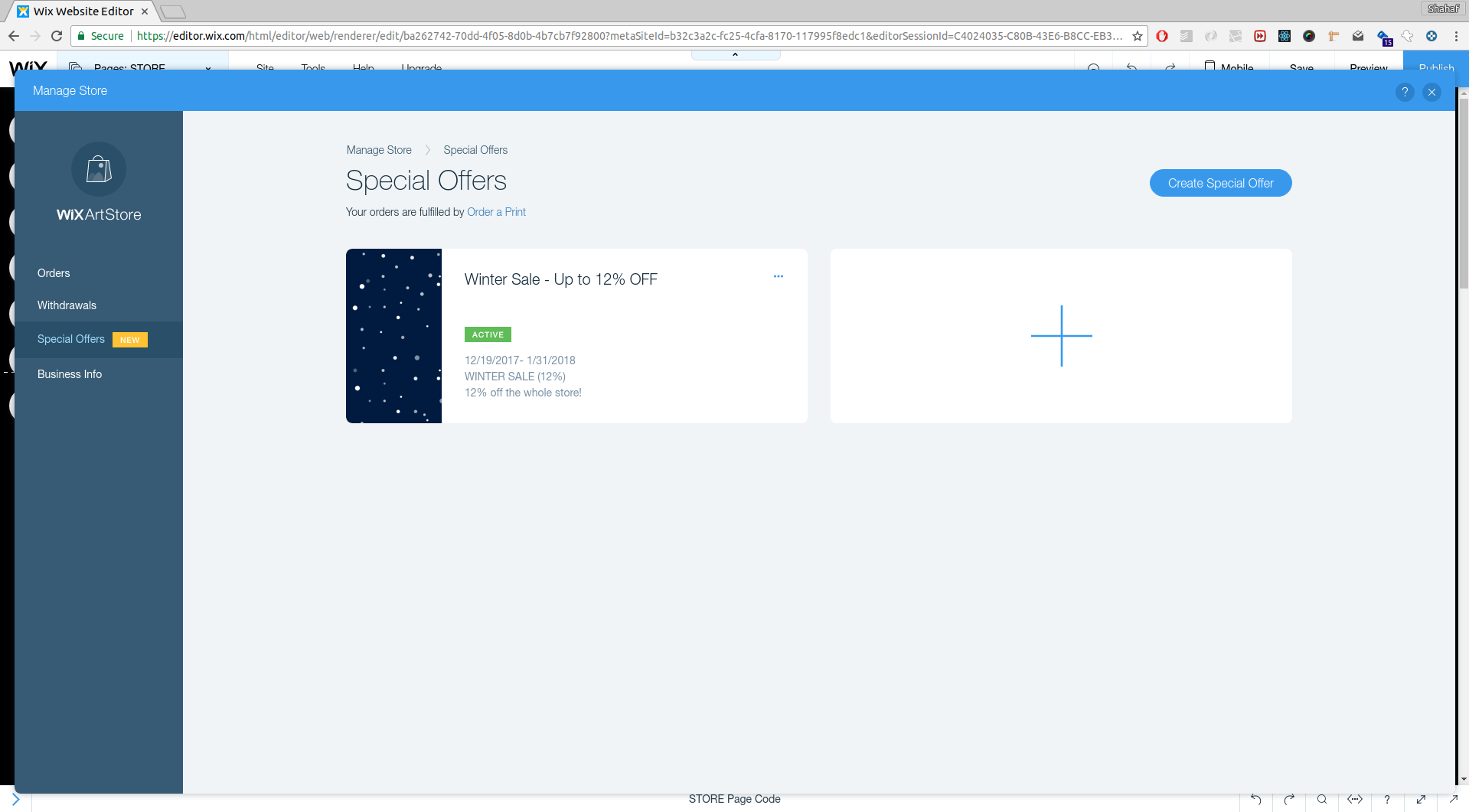 12
.Now you can Edit / Deactivate / Delete your offer OR add another one to your list. If you edit, deactivate or delete a special offer, customers who have added products to their cart prior to your editing/deactivation/deletion of the special offer, will still be able to claim the discount of your original special offer.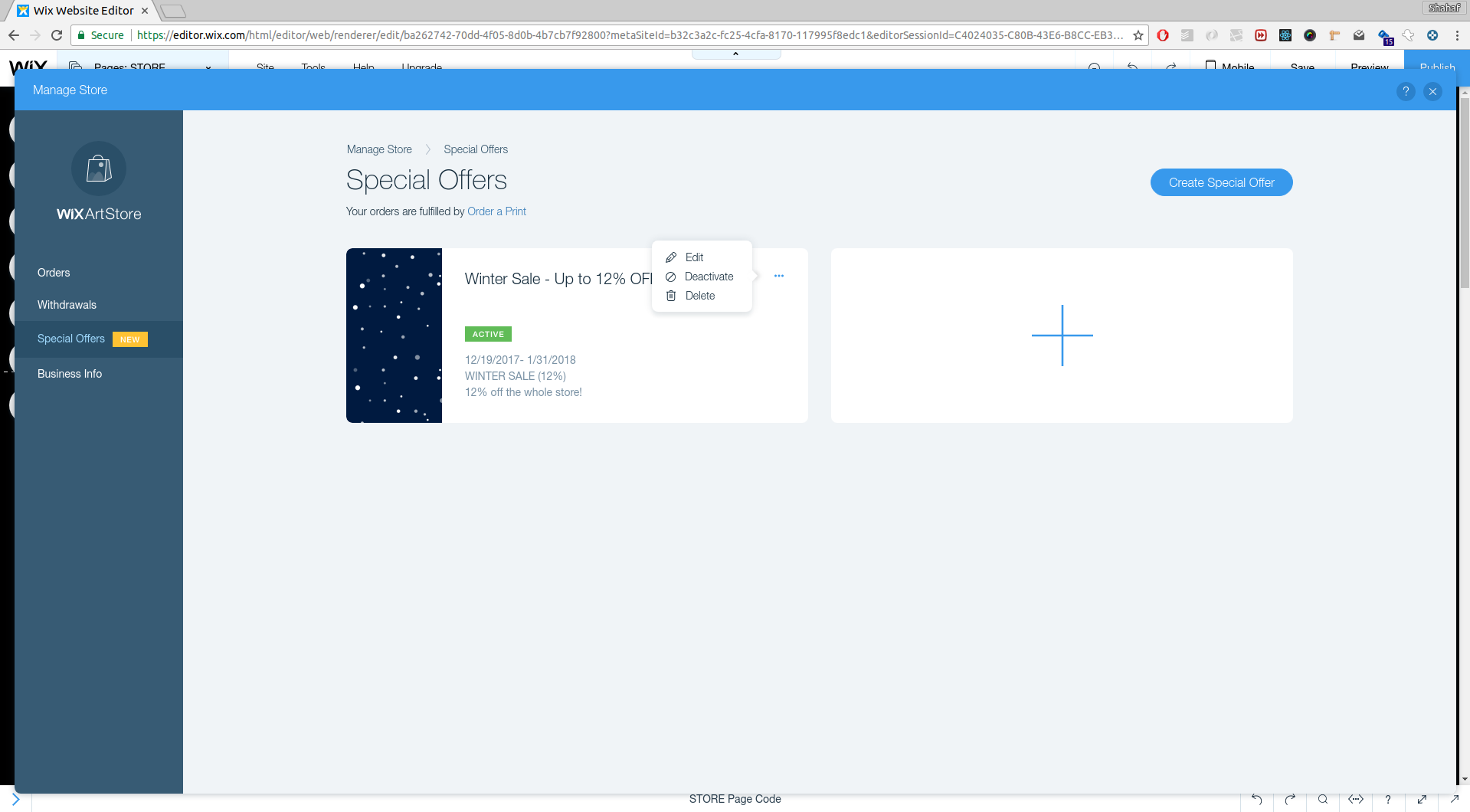 13
.When adding another Special Offer, note that it will NOT be automatically activated, until you manually activate it from the side menu
Note: 

You can create as many special offers as you want, but only one special offer can be live and active on your Wix Art Store at a time. In case you have an active special offer on your site and you activate one of your other special offers, it will automatically replace your previous special offer and deactivate it.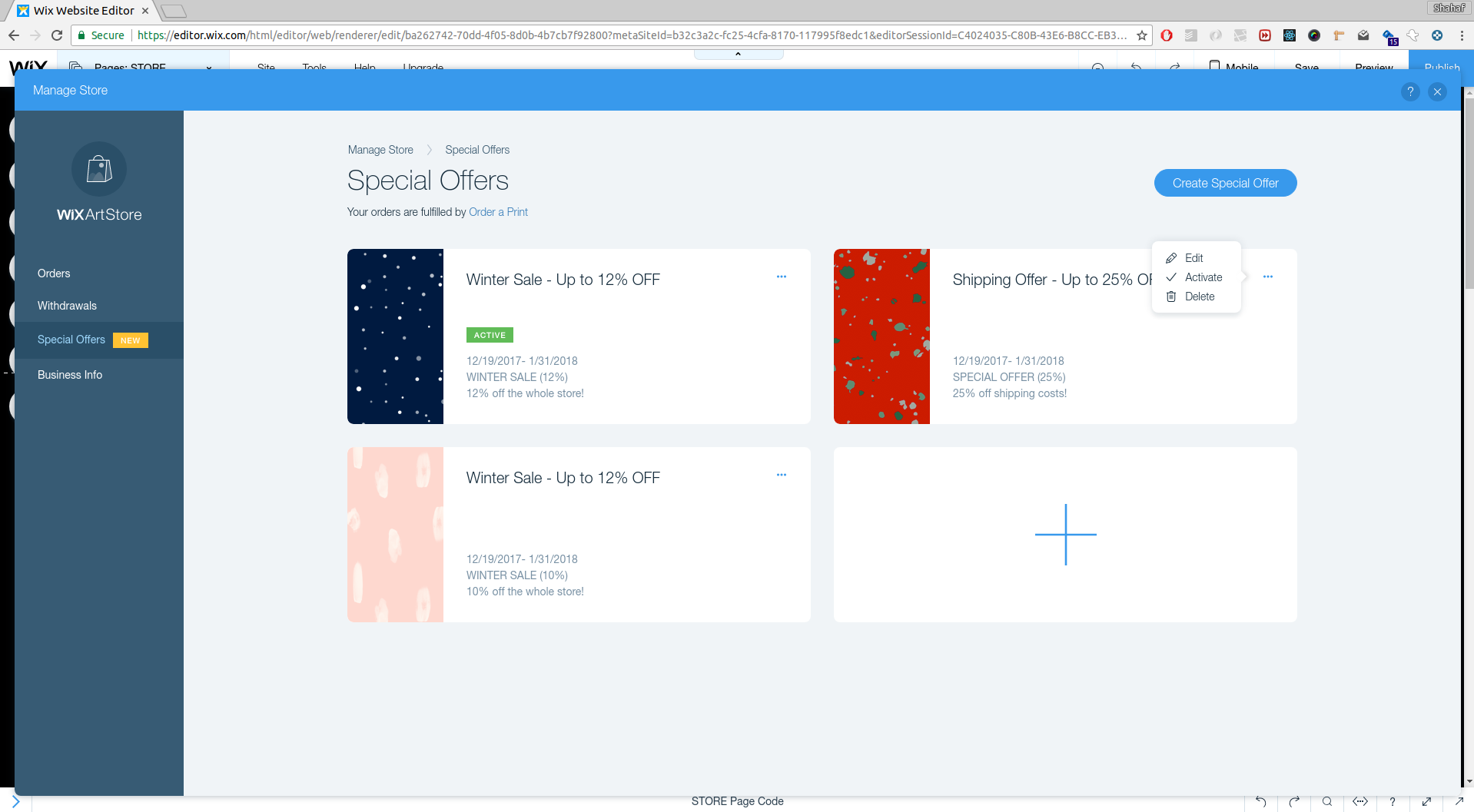 And your site will look just awesome!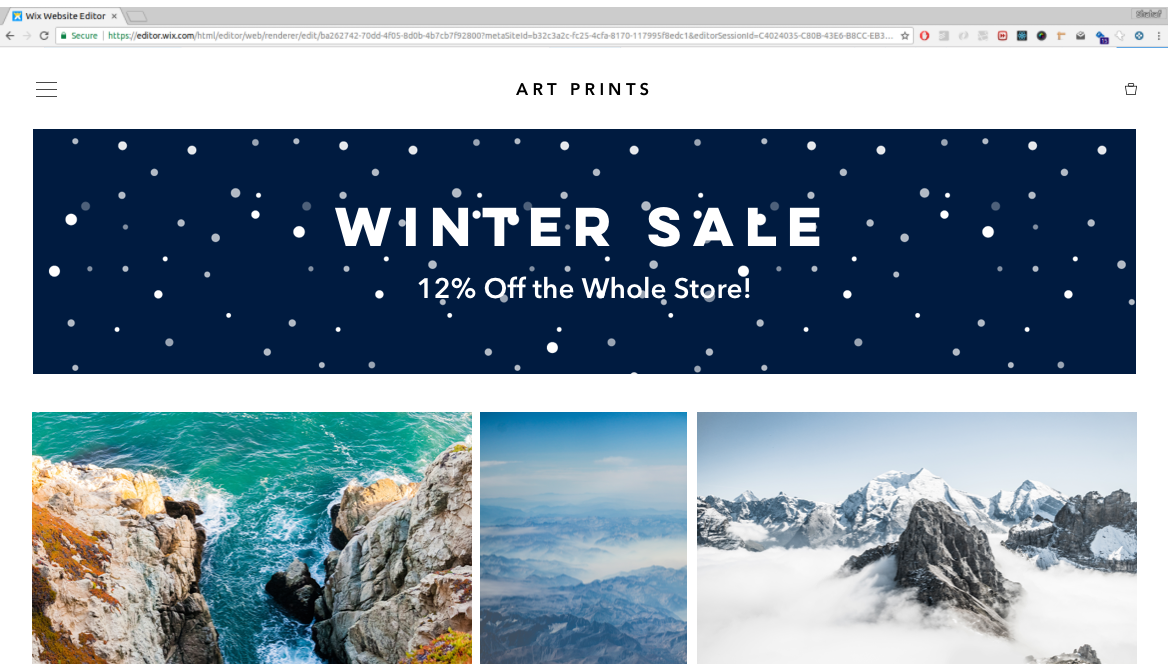 What now?
After you set up a special offer, all you have to do is sit back and follow your earnings.
You can always follow the setup procedure on our Quick Setup Guide.If you need any assistance, please contact our support team
Related articles